As with all Prodigy products our plectrums are manufactured to a high standard using high quality celluloid which produces a very clear, sweet and clean, warm sound.

Prodigy Plectrums® come in 2 shapes and are the very first designed and manufactured especially for the Bouzouki. Both shapes are triangular and have 3 identical perfect playing surfaces.
The shape ΚΛΑΣΣΙΚΗ plectrum has rounded edges which produces a fuller, thicker sound.
The shape ΛΑΪΚH plectrum has pointed edges which produces a brighter, sharper sound.

A great deal of research and development was carried out on this new product. Over the years Prodigy Audio Systems acquired plectrum samples from the world's top players to determine the best shapes to manufacture. A professional technical artist was also commissioned in order to achieve perfect symmetry for the plectrums. The chosen material is celluloid being the Bouzouki players' preferred material.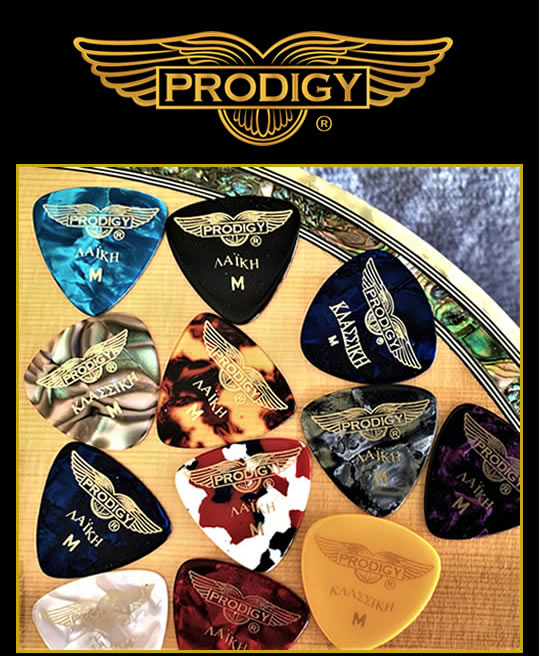 The world's most popular Bouzouki plectrums
Prodigy Plectrums® for the Bouzouki
-
Πέννες ΚΛΑΣΣΙΚΗ and ΛΑΪΚH
Prodigy Plectrums® have become the world's top player's choice of plectrum.
Prodigy Plectrums ® are available in gauges Medium (.71mm), Medium/Thin (.58mm), Medium/Heavy (.81mm), Thin (.46mm) and .60mm